LAMINAR FLOW BOOTH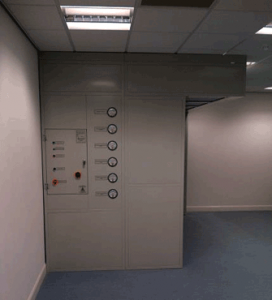 Customer:  Landis & Gyr
Provision of a bespoke designed laminar flow booth for the control of fine particulate generated during a powder weighing and decanting operation
Hollow steel sectional frame with steel in-fill panels, all powder coated to suit clients RAL specification
Low level air intake via perforated grilles and two stage filtration including G4 disposable panels and F6 rated high capacity bag filters.
Twin centrifugal extract fans located within an acoustically lined chamber for low operational noise levels.
High level H13 rated HEPA filters to allow 90% of airflow to be returned back into the booth, 10% discharged back into the room to allow for fresh air to enter the system.
Unit includes integral task lighting, control panel, filter condition gauges and system failure warning lights.
Ref: DE2815