Provision of dust extraction system designed to reduce clients' emissions to atmosphere.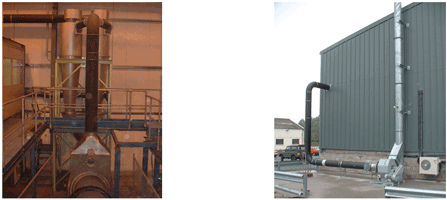 Client processes an alumina and graphite mixture, which is dried prior to discharging onto a vibratory screen conveyor. The conveyed air temperature can reach 120° centigrade during the production process.
Winnowing towers are used to control airborne dust at transfer points with twin high efficiency cyclones used to separate the dust prior to discharging the cleaned air stream to atmosphere. A surge hopper arrangement under the twin cyclones allows the collected dust to be returned back into the production line via a rotary valve and screw conveyor.
Due to the abrasive nature of the dust all contact parts are fabricated from 5mm thick mild steel plate with ductwork being lagged to prevent danger to operating personnel.
The installation reduced emissions and was so successful that a second cyclone type system was installed with the new rotary drier during a factory expansion later in the year.
Reference:DE2240