The small dust and fume extract arm can be used for many other purposes. These arms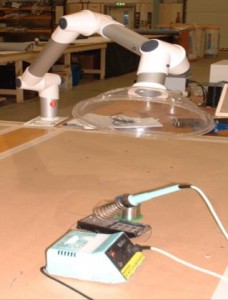 can be used to efficiently remove gasses, smoke, fumes, odours and dust particulate for a cleaner working environment. The range of sizes, materials of construction and accessories achieve a flexible solution for all dust and fume extract systems.
Fabricated from anodised aluminium tubing and shatterproof polypropylene, the Ø 50 and Ø 75 mm arms offer a flexible, low volume, articulated arm for use within a limited workspace which is ergonomically designed for efficient extract performance and long life-span. The range of mounting brackets – each arm can be supplied for either bench, wall or ceiling mounting – hoods and nozzles offers a solution to almost every problem.
The Ø 100 mm extract system affords an increased extract rate within a similar arm design. To allow the larger arm to remain in place, gas spring cylinders provide greater support and precise adjustment for the arms.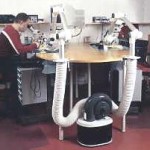 Both system 75 & 100 arms are available for use within chemically aggressive environments and are fully fabricated from white polypropylene. These arms can be used wherever harmful substances present a risk to personnel and materials.
Both system 50 & 100 arms are available for use within ESD and EEx environments. Fabricated from electrically conductive polypropylene, these arms prevent the build up of static charge and are suitable for use with explosive materials, combustible gasses, fumes or dust/air mixtures.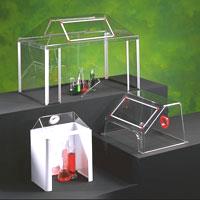 Wide ranges of accessories are available for each arm
system. Starting with table, wall or ceiling mounting brackets, each arm can be designed for its individual operation. Hooding ranges from straight through extractor tubes, suction nozzles, square or domed shape hoods which can be clear to allow the operator greater vision to a selection of clear work stations cabinets for use within laboratories.