Duscovent Engineering Limited have designed and installed general ventilation and air conditioning systems for our clients throughout the U.K. Each system is designed to suit the client's individual requirements with regard to the space involved, the usage of the space, temperature, humidity and cleanliness requirements.
Ventilation systems incorporating an air-handling unit are commonplace to provide make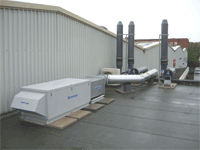 up air in conjunction with an LEV system. These air-handling units can incorporate fanset, filtration, heating, cooling, de-humidification and silencing equipment to provide a conditioned, comfortable working environment.
Industrial process ventilation has been installed at a number of factories, on various sites around the country for a major manufacturer of processed, pre-packaged foods, within education establishments and high street fast food restaurants.
The installations consist of a ducted extract system within the workspace to remove steam, heat and odours generated throughout the process and also provide a tempered, filtered air supply back into the factory.
Industrial ventilation to provide cool air can also be installed complete with heat shields to protect operators, equipment and control panels from direct heat sources such as furnaces and steel rolling mills.
Heat shields are individually designed and fabricated using insulating material within a fabricated sheet steel panel construction to provide protection from convection and radiant heat sources.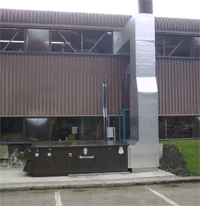 Air conditioning systems can provide a flexible option for improved indoor conditions. Split systems and heat pumps allow economical heating and cooling of large areas as and when required.
Air conditioning systems can be incorporated within office, commercial and industrial premises to provide efficient climate control.