The fume extract articulated arm has been designed to provide extraction at source over a large, variable area. The flanged suction opening creates a large suction area with the extracted air being forced to pass through the actual working zone and therefore provides higher efficiency fume extraction than tapered extract hoods. The extract arm articulation allows the operator to position the arm where it will stay until moved.

The flanged oval hood can always be positioned parallel to the work piece, allowing the operator to work longer without re-positioning the hood.
With a conical hood, air is also extracted from behind the hood and creates a round suction area. Due to the narrow suction area, the hood will require moving on a regular basis.
The articulated extract arm has been developed for extraction of hazardous fumes and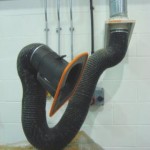 light dust loads directly at the point of emission. The exhaust arm consists of an internal steel parallelogram, which is spring supported and enclosed within a glass fibre hose with PVC coating and integral steel wire helix.
Due to the parallelogram, the exhaust arm can be brought into, and will stay in any desired position within its reach without additional support.
The ergonomically designed rectangular flanged exhaust hood incorporates a universal joint which allows the hood to rotate and pivot in all directions, allowing the operator to position the hood for optimum extraction.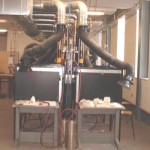 The Ø 150 mm articulated extract arms are available in various lengths from 2m up to 4m long as standard.
For restricted space applications within schools and colleges, a 2m long telescopic version is available for use. The telescopic arm allows a smooth vertical movement and can also be swivelled from side to side.
For more aggressive applications, a rigid tube version is available to provide increased wear resistance.
For longer reach, an additional extension arm or crane exhaust version is available with a maximum span of up to 7m.

A full range of accessories is available including;

Automatic start-stop
Lighting kits
Mechanical, electrostatic and cartridge filters, both stationary and mobile.