The Duscovent AIRCUBE is a mobile, lightweight, economic solution to reducing airborne dust by creating a negative air pressure within a working environment and therefore preventing the dispersal of any contaminants.
The DC Aircube has been developed to be easy to use in arduous areas such as construction sites and workshops and can handle difficult dusts such as quartz, which is found within brick, concrete, plaster, mortar and grout. The unit incorporates a two-speed fan and H13 rated HEPA filter within a compact case fabricated from alu-zinc coated sheet steel. The fan unit is a radial blower type and maintains its high-pressure characteristics throughout allowing large airflow capacities for the lifespan of the filter. The unit can be used freestanding, ducted to atmosphere or mounted at high level to achieve circulation of air within a workplace.

DC500 Aircube
The DC Aircube single unit incorporates a 0.17 kw motor for a maximum airflow of 400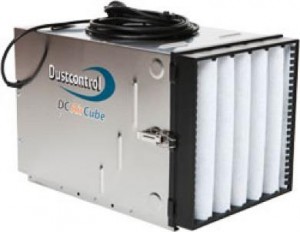 m³/hour. The unit is small and portable and includes a carrying handle.
H x W x L mm
Weight
Outlet size
Max flow at open outlet
H13 HEPA filter
Noise level
380 x 340 x 495
13 kg
Ø 125 mm
500 m³/hour
99.995 % efficient
45 dB (A) – speed 1 | 65 dB (A) – speed 2
DC Aircube D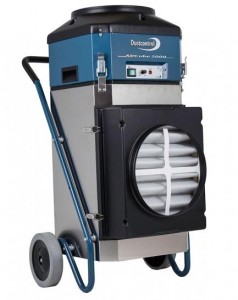 The DC Aircube D double unit incorporates twin motors with speed control. The unit is small and portable and includes a wheeled trolley.
–
H x W x L mm
Weight
Inlet/Outlet size
Max. flow at open outlet
H13 HEPA filter
Noise level
DC1200D
869 x 458 x 598
21 kg
Ø 250/315 mm
1060 m³/hour
99.995 % efficient
60 dB (A) – speed 1 | 69 dB (A) – speed 2
DC2000D
1019x512x547
25 kg
Ø 315 mm
1850 m³/hour
99.995 % efficient
62 dB (A) | 74 dB (A)