The Duscovent down draught bench is a free standing, fully self-contained dust and fume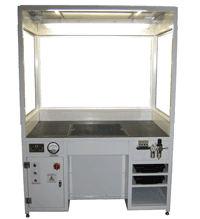 extract system to suit all applications.
Each bench is individually tailored to suit the demands of the workplace and can be used for fume extraction – removal of solder, adhesive, solvent or welding fumes, or for dust extraction – collection of sanding, grinding, fettling dusts.
The down draught bench incorporates a perforated work surface for full face extraction complete with two stage filtration incorporating washable aluminium mesh filters and disposable pleated or bag filters. The level of filtration is determined by the particular use of the bench and options include EU4, EU6, F10, HEPA or carbon filter panels.
An integral centrifugal fan generates airflow, 240v direct drive motor is fitted as standard and can be speed controlled as an option. Other voltages are available as well as flameproof motors and anti-spark features. The filtered air is returned to the workplace by a low-level discharge grille.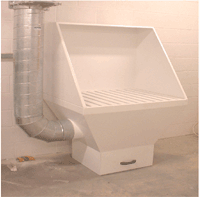 Benches can be arranged to incorporate electrical sockets – either 240V or 110V as well as compressed air distribution and manifold systems. Top enclosures with safety glass viewing panels and task lighting are available as well as various storage options including shelving with removable trays, lockable drawers and cupboards.
Where continuous operation and heavy duty applications or a higher level of waste collection is anticipated, the down draught bench can be directly connected to an independent local exhaust ventilation system complete with our DUSMATIC or DUSJET type collector. Multiple benches can be linked to one filter unit.
These benches can be individually tailored with wooden slatted or rubber faced worktops, clean-out drawers for the collection of larger waste particles, integral task lighting or the inclusion of vacuum cleaning points with all necessary on tool hooding for hand held power tools and cleaning brushes as required.
Although there are a range of standard sizes, benches can be fabricated to suit the client's individual operation and available workspace and can be finished to any RAL colour specification.