The dust extract articulated arm has been designed to provide extraction at source for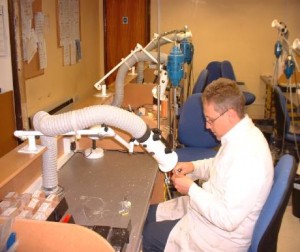 cutting machines or spot extract for process equipment. The arm incorporates an external articulated carrier arm with fixing bracket and capture hood at opposite ends. The flared capture hood is connected to a flexible hose, which is supported along the length of the carrier arm. This design has been developed with no components inside the hose and therefore provides no restrictions to airflow. The articulated carrier arm allows the hood to be positioned by the operator where it will stay until moved.
The range is supplied as standard with carrier arm and hood fabricated from mild steel with a powder coated finish. The hood incorporates either a small or large flared capture face, dependant upon application. PVC or polyurethane flexible hose is supplied as standard.
For specialist applications, stainless steel or polypropylene can be used for construction whilst hoses can be specified to suit the individual application or contaminant including chemical resistant and high temperature types.
The mini arm is available in 2 diameters, Ø 75 or Ø 100 mm, and is designed to be wall or bench mounted. The compact 1m length makes this arm ideal for fume extract at bench mounted soldering operations or dust extract at small woodworking machines in a school or college environment.
The standard arm is available in 5 diameters ranging from Ø 75 to Ø 200 mm and three overall lengths, 2, 2.5 & 3m to allow the arm to be used in a wide variety of applications and incorporated within centralised extract systems.
The extender is available in 5 standard diameters ranging from Ø 75 to Ø 200 mm and has been designed for restricted space applications. The single fixing point allows the operator to quickly adjust the arm length to very between 1.2 and 1.8m operating radius.
The extended reach crane type cantilever boom arms are available to allow the reach of the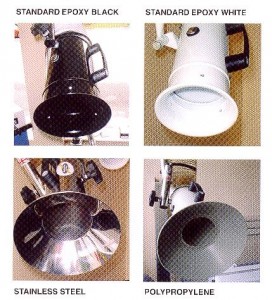 standard arms to be extended up to 8m in radius.
Capture hoods are supplied as standard with a small flare, although a large flare to open the capture face is available at no extra cost.
Stainless steel and polypropylene can also be used during construction, to suit the individual application.