The vapours and aerosols produced during the spraying of some paints, lacquers and varnishes may present a serious fire and health hazard unless the process is controlled.
Duscovent Engineering Limited can offer a full range of dry media, water wash and bench mounted spray booths for use on such applications.
These booths are fire-resisting structures fabricated in modular panel form from prime quality, galvanised sheet steel and are served by suitably sized extract systems designed to offer efficient filtration of any airborne particulate.
Each booth is tailored to suit the client's individual requirements and can include ATEX rated flameproof motors and control gear, task lighting, extended working canopy and filter condition indicators.
Traditional dry media booths can utilise either fibreglass mesh media or pleated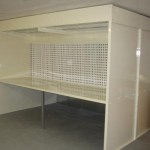 corrugated paper to offer efficient separation of airborne particulate. This type of booth offers a cost-effective option but will require regular filter replacement to maintain the original extract design parameters.
Water wash booths can be supplied as either conventional pumped type or self-induced spray type and offer increased effectiveness at removing odours and vapours as well as airborne particulate from the contaminated airstream. With no filters to replace, a constant rate of extraction is maintained during the operation of the booth.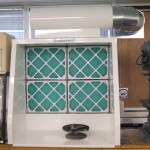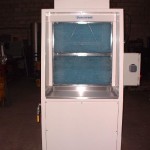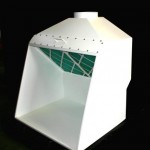 For clients with small work pieces to be sprayed, such as a small arts studio or school classroom, we can offer a range of bench mounted or mobile, self-contained spray booths with replaceable dry filter media. These booths can be fabricated from prime quality galvanised sheet steel or finished with an epoxy powder coating to suit client's requirements.