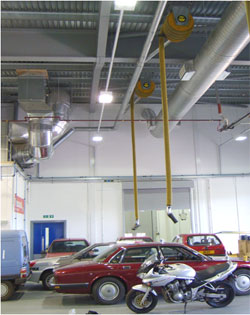 Within the factory and garage environment vehicles can be run for test and maintenance purposes. This action within a confined or enclosed area can lead to a build-up of engine exhaust emissions which contain a mixture of gasses, vapours, liquid aerosols and particulate substances which can be harmful to the health of any personnel in the surrounding area.
Duscovent Engineering Limited can supply and install a bespoke fume extract system incorporating direct connection to the vehicle exhaust pipes, allowing the emissions to be discharged directly to atmosphere. Various extract systems are available dependant upon the nature of operation to be carried out, the size and number of vehicles involved and the construction of building or enclosure.
An under-floor extract system can be incorporated during the construction of the garage to remove the need for trailing hoses during normal operation. Modifying or expanding the system at a later date can prove difficult.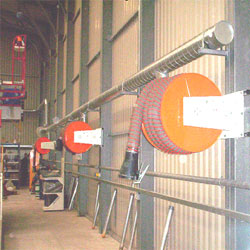 Single or twin station extract systems incorporating high temperature flexible hoses with wall supports and hose balancers are more suited to the smaller workshop and utilise a centrifugal extract fan designed to discharge to atmosphere.
Drum reels can be used to allow the hose to be retracted for storage when not in use. The drums can be either spring operated, electrically driven or remote controlled, allowing the operator full control over the hose position.
Duscovent Engineering Limited can also supply a full range of high temperature, wear resistant, crush-recoverable flexible hoses, metal and neoprene rubber tail pipe nozzles complete with clamping arrangements as well as exhaust gas funnels suitable for 4 gas analysis in line with current emission tests.