Duscovent Engineering Limited can offer a wide range of ductwork construction styles to suit clients' specification and individual application and can help clients select the correct system for their individual requirements.
Spiral Wound ductwork is formed from light gauge galvanised sheet steel with a spiral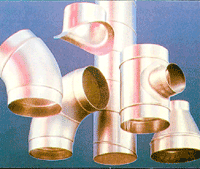 lockformed seam and is available with standard lengths and fittings being joined using slip joints fixed with self-drilling screws and sealed with silicone.
Spiral wound is generally used to convey a contaminated airstream with light dust loadings of a non-abrasive or chemically aggressive nature and is especially used for fume extract or general ventilation/low pressure air movement systems.
As well as circular sections, flat/oval ducts are also available whilst stainless steel and plastic coated sheet can also be used during construction for specialist architectural installations.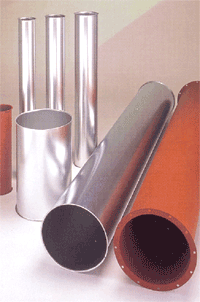 Smoothbore ductwork is a modular system formed from medium gauge galvanised sheet steel with a longditudinal laser welded seam and is supplied in a variety of standard lengths and with pressed bends, joined using turned edges and wrap around clips supplied with a range of seals to suit the particular application.
Smoothbore ducting has been developed with a smooth internal profile, even at joints, to provide reduced resistance to airflow and help prevent any particulate building up on the inner surfaces, which can ultimately lead to blockages.
Smoothbore is generally used to convey medium dust loads of particulate directly from cutting machines or process capture hooding. Smoothbore is ideal for conveying strand type waste, woodwaste, paper trim and chemical/pharmaceutical waste.
A heavy-duty option is available, fabricated from 2mm thick mild steel plate and is used to convey heavy dustloads of abrasive waste.
The smoothbore duct system is also available in stainless steel with a bead blast surface finish for use in more aggressive atmospheres where increased wear or corrosion resistance is required. The modular stainless system is ideal for use in the food and chemical industries as it can be easily dismantled and cleaned on a regular basis for maintenance or end of batch run purposes.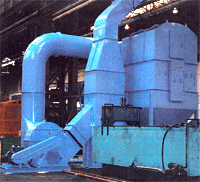 Fabricated ducting is specifically formed for client's individual application. Wall thickness can vary from 3mm – 10mm, with each duct section being fully welded and joined using flanges. Duct items are generally finished with a three-coat paint system to client's RAL specification or can be either powder coated or hot dip galvanised.
Fabricated ductwork is generally used to convey heavy loads of abrasive dusts such as metal shot, waste or mineral ore, or airstream that contain corrosive contaminants, to help reduce internal abrasion and extend the lifespan of the system.
Plastic ducting can be supplied using either PVC or polypropylene tube and fittings, joined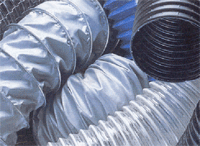 using hot or solvent welded joints. The material of construction is determined by the anticipated contaminant. Plastic ducting is generally used to extract from fume cupboards and processes containing highly acidic or alkaline fumes. We also provide bespoke fabricated plastic process pipework to serve the chemical industry.
Duscovent Engineering Limited can also supply a wide range of fans constructed from materials to compliment the plastic ducting.
A wide range of flexible hoses is available to suit the client's particular needs. Lightweight glassfibre or aluminium foil type flexes are generally used in low-pressure ventilation systems whilst heavy grade PVC or PU type flexes are used to convey lightweight particulate. Rubberised type flexes can be used for more abrasive dusts whilst Kevlar and other similar fabric hoses and stainless steel metalflex can be used for high temperature applications.